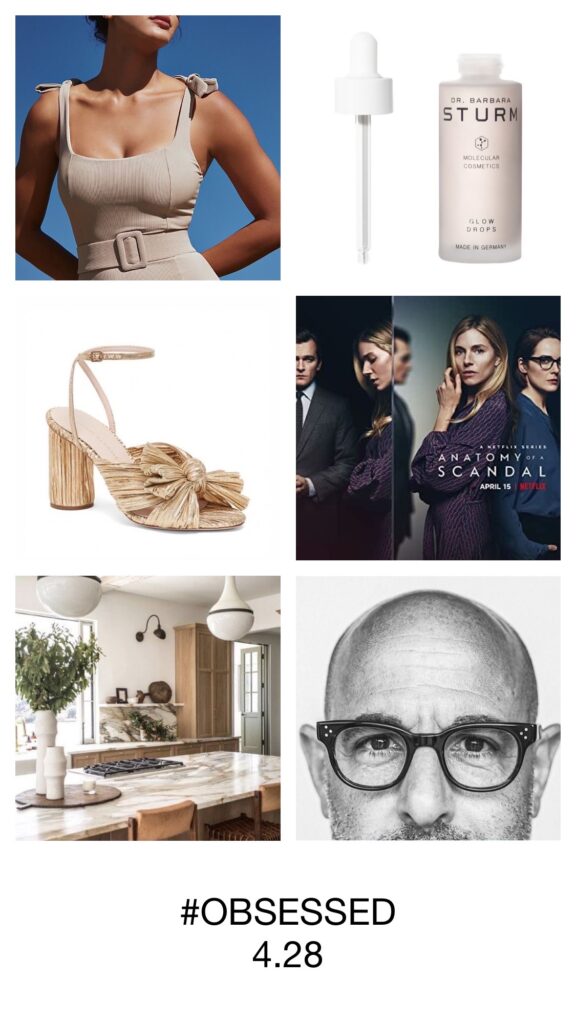 Swimsuits, skincare, sandals, Anatomy of a Scandal, and STANLEY, oh my! Here's the breakdown of what I'm obsessed with this week.
I'm constantly searching for the perfect swimsuit, and this number from Anthropologie is a total winner. The tie straps are adorable, the belt is super flattering, and the fabric is exactly what you want in a suit- smooth and structured yet incredibly soft. (Apologies for the excessive alliteration; it's pure coincidence!:) I love the neutral color above, but I decided to buy it in red for fun. I'm not sure why it didn't scream "Lifeguard on Duty!" when I saw the picture, but it's the first thing I thought of when I tried it on. Hopefully, I can find a cool sarong (another "s"! sorry!) to pair with it, and I won't be taken for a snoozing lifeguard at the pool this summer.
Skincare. If you're not obsessing over everything, Dr. Barbara Stürm, you need to jump on board. The product line is extensive, luxurious, and expensive, so start with the Glow Drops if you need an intro to the line. One pipette on a freshly moisturized face or over your makeup gives you a dewey, smooth, straight-up glow. Your face will thank you.
This sandal has been stalking me on Instagram for a couple of weeks now and might need to find its way into my shopping cart. Loeffler Randal has always made beautifully feminine shoes, but this one has a little something special with that ankle strap. I see this sandal as the icing on the cake to complement any dress year-round. Here's a great dupe if the price tag scares you a bit.:)
One show we just finished watching on Netflix is David E. Kelley's, Anatomy of a Scandal. Starring Sienna Miller and Downton Abbey's Michelle Dockery, the show has a juicy, suspenseful plotline that will keep you guessing until the end. Still, it wasn't exactly the story that hooked me. The interiors of Sienna Miller's London flat, in addition to her wardrobe, were the real show stoppers for me. Styled to perfection with gorgeous wallpaper, fluffy sofas, a cozy book-lined study, fabric headboards, and a quintessentially British kitchen, the set was a swoon-worthy backdrop to Sienna's classic beauty and elegant European wardrobe.
Speaking of interiors, I have been a fanatic for as long as I can remember. Before Pinterest, I obsessively collected tear sheets from shelter magazines and kept them in file folders for the home I knew I would eventually get to design myself. Well, folks…that dream has come true as we just purchased some land and have begun the journey of designing and building our forever home from the ground up. We're still a little stunned, a bit scared, but so excited about what lies ahead. We have started to harness all of our inspiration into a pretty solid concept, and I'm excited to share bits and pieces along the way here on the website and Instagram. Currently, I'm obsessing over Jake Arnold, Kate Marker, Whittney Parkinson, Amber Lewis, and Ashley Montgomery. Stay tuned for lots of interior inspo…!
Finally…Stanley is back!!! Sunday is the day the delicious in every way Searching for Italy season two returns to CNN. Those of you who missed season one must go back and watch the adorable, approachable, hilarious Stanley Tucci visit different regions throughout Italy. Covering food, wine, architecture, history, culture, and politics, Searching For Italy will make you want to jump on a plane and immediately live La Doce Vita.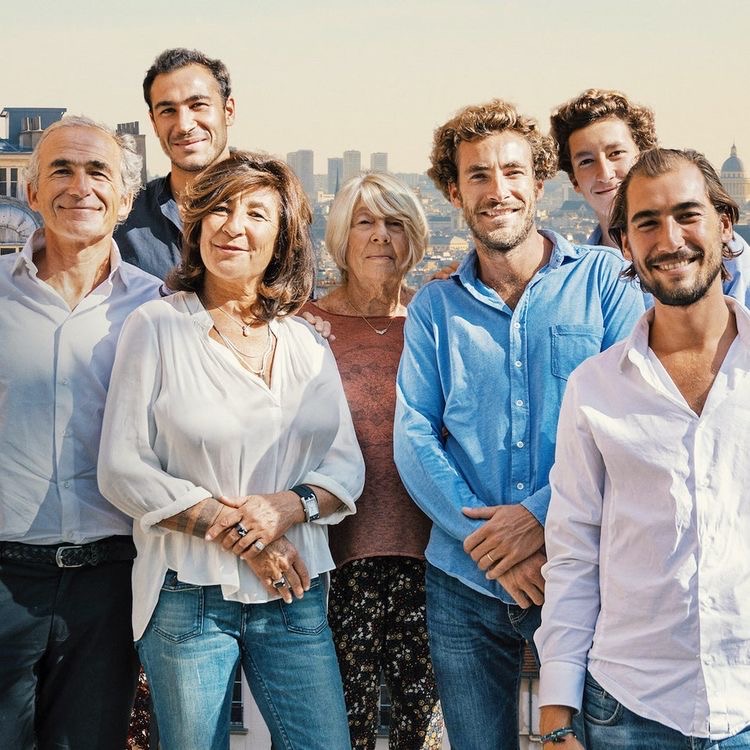 One last show I have recently been obsessing over is L'Agence or The Parisian Agency on Netflix. If you are a fan of Million Dollar Listing on Bravo, you will totally dig this. With Paris as the backdrop, you will fall in love with the Kretz family of four brothers, their parents, and their hilarious Grandmother, Majo. The show gives you an inside look into some of the most exclusive apartments and castles in and around Paris, their families' growing real estate agency, and their heartwarming bond. Trust me; you will not mind the subtitles as the brothers are easy on the eyes and listening to the French is music to your ears.
Happy Mother's Day!
XO